History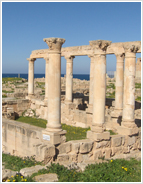 Tunisia, a country of history and a trampled land by various civilizations (Punic, Roman, Christian ...), presents a clever balance between modernity and tradition. Its history is illustrated through multiple art objects that are exhibited in the Bardo Museum in the company of the largest collection of Roman mosaics in the world.
You will visit the archaeological sites of an immense beauty that dot the landscape of Tunisia, temples like in Dougga and Sbeitla, the Colosseum of El Jem, or the Archaeological Museum of Sousse. Tunisia points out its identity through typical architectural Arab-Muslim art that emerges through its monuments, and the most prestigious mosques such as the Grand Mosque of Kairouan.
Furthermore there are rich and varied crafts with the ceramic of Nabeul, the Kairouan carpet, but also the enameled copper of Tunis.


A diving in fabulous sites in the Sahara: colors, light, space ... The share of dream rewards your talents and a touch of adventure will reveal the daring temperament and build common sustainable memories.
A land of culture


In the heart of the greatest civilizations of the Mediterranean and as the heir of Carthage and Kairouan, Tunisia is the place to visit to link the child of a past that helps control the issues of the present. Seven of its historic sites have been inscribed by UNESCO as World Heritage of Humanity, and some of them, like the Colosseum of El Jem, can accommodate your event.


Gastronomy

Selected ingredients and a careful preparation ... Even for relaxing breaks our programs do not leave anything to chance and aim at perfection. Because an incentive trip is primarily a reward, and because Tunisia, a rich land with refined gastronomic tradition, is also a great country for thalasso therapy.